FORE! Geneva National set to host another Keep Wisconsin Warm/Cool Fund Charity Golf Classic
Partnership between course, organization continues to grow to keep the HEAT and POWER on for those most vulnerable in Wisconsin
For 17 years, the Keep Wisconsin Warm/Cool Fund's Charity Golf Classic & Silent Auction has shown what a grassroots effort can do to help those in need. The hundreds of people who come together every year to show their support for those less fortunate have helped the event become one of the state's premier fundraising events.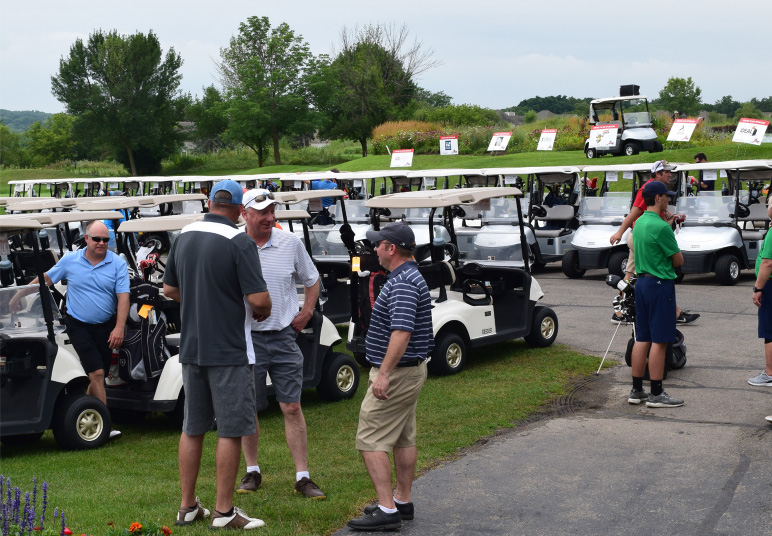 Golfers at last year's Charity Golf Classic and Silent Auction gathering before the shotgun start at Geneva National in Lake Geneva, WI.
---
"Our supporters and participants in the event continue to openly express their amazement over the amount of support and the number people involved to ensure this charity outing stays a success," KWW/CF Executive Director Tim Bruer said. "The competition for participants and supporters continues to increase, which has resulted in our event being continually challenged to provide the highest quality possible."
It's that same outpouring of support that led to Bruer thinking bigger, as the event started to outgrow its space in Spring Green several years ago.
"After many years of enjoyment and success at House on the Rock, we made the choice to relocate because of its fortunate growth," Bruer said. "We wanted to look for a venue that was not only affordable, but also would raise the bar in terms of participant satisfaction."
As Bruer and the KWW/CF staff searched for a big enough course to host the outing, they met the outstanding staff and saw the incredible location of Geneva National Golf Club in Lake Geneva.
The highly rated course features 54 holes of pristine golf designed by a trio of the sport's greats: Arnold Palmer, Gary Player and Lee Trevino. Carved out of the rolling countryside in southern Wisconsin, the facility offers a unique round of golf and an incredible landscape.
Leadership and the staff at Geneva National quickly formed a partnership with the KWW/CF. Three years later, that bond continues to grow, as the course will host its third KWW/CF golf outing August 6.
"We love that the funds stay local," Geneva National Director of Sales Rob Booth said of the KWW/CF. "This is helping people in our own communities…if we can play a little part in helping to further the cause, we are eager to do so."
The 2018 outing was another overwhelming success, with $279,000 going toward helping thousands of Wisconsin households in need. Booth said a big reason the partnership has been so successful is because of close communication and planning.
"The passion that Tim and his staff have are second to none," Booth said. "They are also very organized, which makes for a great event."
But it's more than just agreeing to host the event that sets Geneva National apart. Bruer said the course and its staff have been beyond accommodating in a variety of ways.
"A big part of our success has really been the personal involvement of not only their leadership, but also their rank-and-file staff who have always gone the extra mile for our event," he said. "Geneva National really has gone well beyond our expectations and imagination. From 'Big Jim,' who greets our volunteers, golfers and supporters, to those on the course, to the management staff, they have all taken an active personal involvement in our success."
Booth said that Geneva National has been happy to put forth the effort to support the outing because they see the fruitful results that are a product of the outing.
"We are committed to assisting KWW/CF to keeping costs down so they can maximize their fundraising efforts," he said. "There are other outings we could host, but we love KWW/CF's cause and enjoy working with this team; it truly is a partnership in every sense of the word."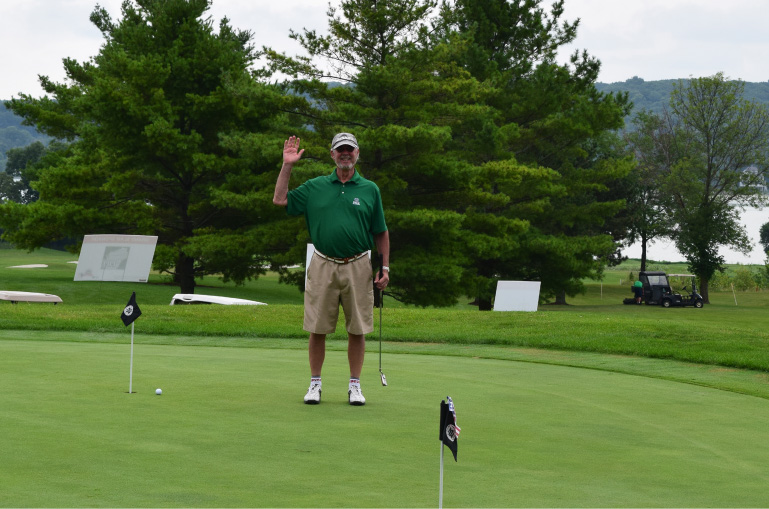 One of the 2018 golfers stopped to wave while participating in the putting contest sponsored by First Weber Group Foundation.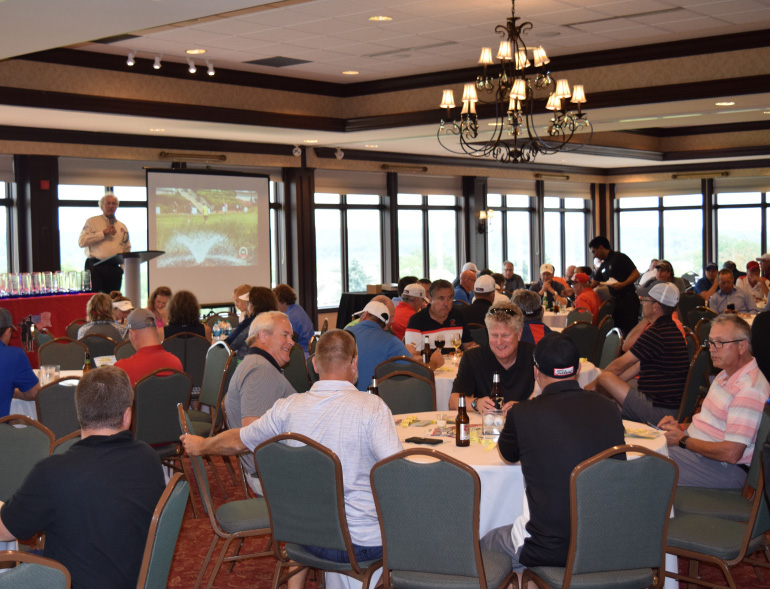 One of the 2018 golfers stopped to wave while participating in the putting contest sponsored by First Weber Group Foundation.