17th Annual Keep Wisconsin Warm/Cool Fund (KWW/CF) Charity Golf Classic Once Again an Overwhelming Success
Golfers, contributors, volunteers, community stakeholders and more join together to make a difference
The 17th Annual Keep WI Warm/Cool Fund Charity Golf Classic was held Tuesday, August 7th, 2018 at Geneva National Golf Club in Lake Geneva. The event was once again an overwhelming success, raising $279,000 that will go towards helping thousands of Wisconsin households in need including Veterans, elderly, disabled and working families with young children in crisis. Because of the generosity of the many golfers, corporate sponsors, donors and stakeholders that took part in the outing, Wisconsinites in need will be able to keep the heat and power on. The outing also helped raise awareness to the cause of Keep Wisconsin Warm/Cool Fund and Heat and Housing for Heroes initiatives.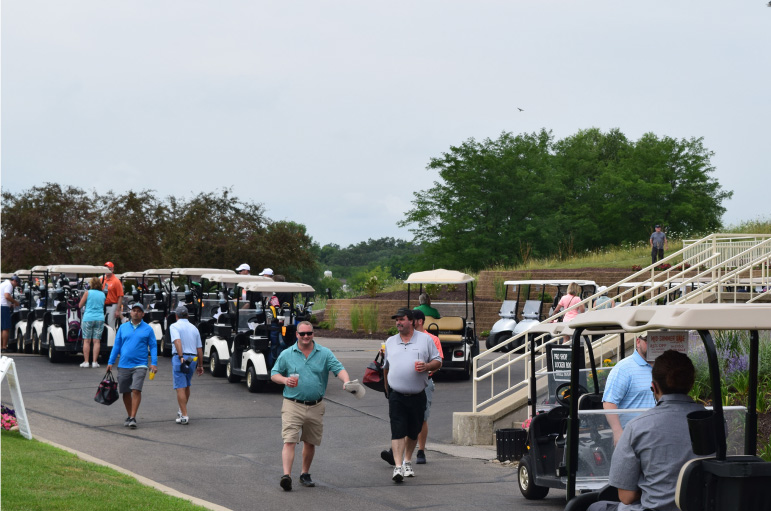 Golfers at the 17th Annual KWW/CF Charity Golf Classic and Silent Auction shown here getting ready for a great day of golf in Lake Geneva, WI.
A special thank you to our angel donors, Wisconsin Pipe Trades, SARA Investments, MIG Commercial Real Estate, and Mortenson Investment Group, who made it possible for a number of veteran foursomes to participate in the event.
Carved out of the rolling country side, the Geneva National Golf Club features 54 holes of Legendary Golf designed by the masters, Arnold Palmer, Gary Player and Lee Trevino. Golfers at the 17th Annual Keep Wisconsin Warm/Cool Fund Charity Golf Classic got the chance to experience three of the best golf courses in Wisconsin at one club.
Dozens of foursomes of golfers hit the links to play a scramble-style golf tournament. There were team prizes and individual prizes for separate contests like longest drive and longest putt along with fun activities throughout the course and opportunities for people to win prizes while they were golfing.
The 2018 Charity Golf Classic was also an opportunity to present Keep Wisconsin Warm/Cool Fund Extra Mile awards to our Individual, Corporate and Labor Extra Mile recipients, nominees considered were those who had demonstrated both personal and organizational support well beyond the norm. Their efforts without a doubt has had a major impact on our mission or has been key to the success of a number of our special events like our 17th Annual Keep Wisconsin Warm/Cool Fund Charity Golf Classic. We are pleased to announce for 2018 our two Individual Extra Mile recipients are Wayne Harris and Steve Breitlow.
"Wayne Harris has had a long history of getting involved in the grassroots in a number of worthwhile causes including Gilda's House, The Ronald McDonald House and several others. Through thick and thin, Wayne has always been one of our more unabashed supporters of our mission, our purpose and our campaign fundraising activities including our golf outing," Energy Services, Inc. Executive Director and KWW/CF and Heat and Housing for Heroes founder Tim Bruer says. "Especially during the melt down of the economy, Wayne was not shy about putting a tremendous amount of his own time and effort to mobilize support and additional resources for Keep Wisconsin Warm/Cool Fund Golf Outing."
"As co-chair of the annual golf outing, he has a big part of holding it all together," Bruer adds. "He is more than worthy of being the recipient of the Extra Mile Award."
Steve Breitlow, business manager for the Plumbers Local 75, was also selected as for the 2018 Individual Extra Mile Award. He has been a huge supporter of Keep Wisconsin Warm/Cool Fund and Heat and Housing for Heroes. "Nobody has spent more time at a moment's notice to continually support our golf outings over the years," Bruer says. "He has spent countless hours organizing for us and was the principal catalyst behind our very successful KWWCF/Heat and Housing for Heroes ad campaign which literally tripled the number of vets coming through. To date for 2018 a record 19,400+ veterans were provided much needed crisis assistance grants as part of our KWWCF/Heat and Housing for Heroes campaign."
Historically we have recognized both Corporate and labor organizations or individuals for going the extra mile. For our Extra Mile Award for 2018 we are also pleased to announce Steamfitters Local 601, Joel Zielke for their historical and incredible support today at the Keep Wisconsin Warm/Cool Fund and Heat and Housing for Heroes Charity Golf Classic.
Joel Zielke, Business Manager of Steamfitters Local 601, also accepted the award. Steamfitters Local 601 started the Heats On Program over 30 years ago with the idea that once a year the guys would volunteer their time on a Saturday in autumn during the start of the heating season to check out furnaces in the community.
"In recent years they have really focused on our veterans and have gone out to their homes at no charge to do whatever is necessary to keep them in their homes," Bruer says. "Recently they had four furnaces where carbon monoxide was detected but they were able to work with contractors to replace the furnaces at no cost to the vet."
"Joel's leadership, along with Steve Breitlow and others, have been at the forefront of putting positive action to providing a survival safety net to ensure that no vet goes without heat," Bruer adds.
"Importantly, the Pipe Trades have also demonstrated their tremendous commitment towards the training and employment of veterans throughout Wisconsin. We have seen firsthand the success of their ability to effectively reach out and achieve gainful employment into the trades. It has been rewarding to have experienced a number of returning veterans that we initially assisted, then becoming proudly employed within the trades." said Bruer.

One of the many, many dedicated volunteers shown here assisting with the First Weber Group Foundation Putting Contest. Volunteer help is vital to running the KWW/CF Charity Golf Classic smoothly.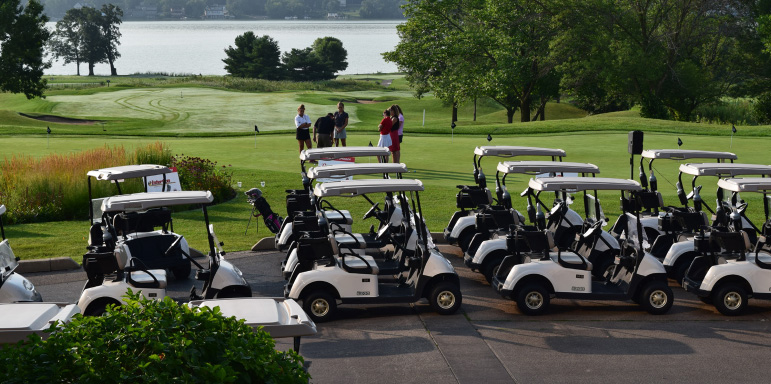 The beautiful golf course at Geneva National in Lake Geneva, WI has been home to the KWW/CF golf outing for two years now.