Local Musicians Come Together for 5th Annual Flannel Fest, Raising Funds and Awareness for Those Most in Need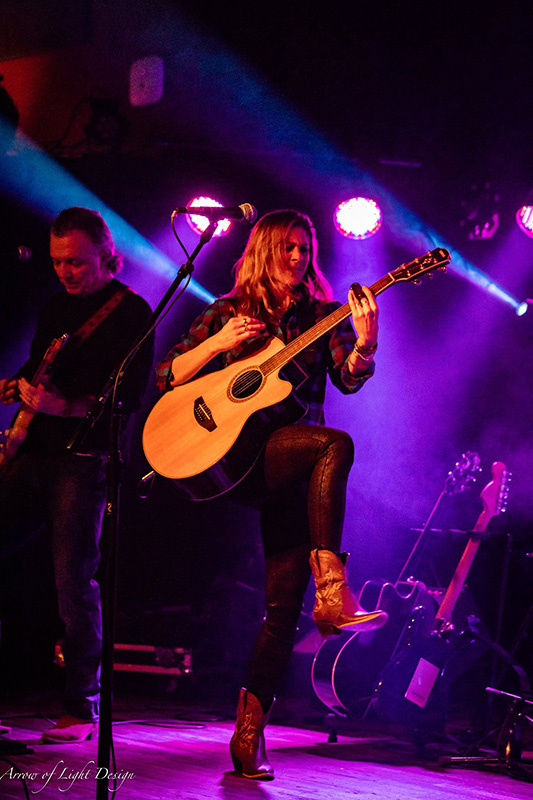 Beth Kille, co-founder of Flannel Fest, singing with her band during the concert at High Noon Saloon in Madison, WI, Photo by Mike Rausch
Flannel Fest held at two locations this year featured bands that played to raise money and awareness for KWW
The 5th annual Flannel Fest, a celebration of the local and national Americana music scene, was held at two locations this year on Friday, November 2nd and Saturday, November 3rd and raised significant money for Keep Wisconsin Warm/Cool Fund and Heat and Housing for Heroes.
"This was our 5th year and it's really starting to come into its own," says Flannel Fest organizer and co-founder Beth Kille. "I really feel like this was the best year so far in so many ways."
---
Flannel Fest North was held at the Gibson Music Hall in Appleton, Wisconsin on Friday, November 2nd and Flannel Fest South was held at the High Noon Saloon in Madison on Saturday, November 3rd.
"This was our 5th year in Madison and our 2nd year up in Appleton," says Flannel Fest organizer and co-founder Erik Kjelland. "They both were incredible events this year. I believe we raised over $6,000 this year which will be combined with matching funds."
"The bands really give us a discounted rate to play at Flannel Fest and we really appreciate that," Kille adds. "That's huge, and at the end of the night that's what helps us make such a generous contribution."
Those bands who played both venues, were Miles Nielsen and the Rusted Hearts, The Mascot Theory, Beth Kille Band, Well Known Strangers, Driveway Thriftdwellers, Kurt Gunn and Amanda James.
"We had a bigger crowd in Appleton and in Madison than we had last year. It was nice to see the event grow," Kille says. "It's really cool to be able to raise money for an organization like Keep Wisconsin Warm/Cool Fund and also celebrate the regional Americana music scene. We have such great bands and everybody wears flannel and we have so much fun. Great music for a great cause."
Kille is a veteran in the Madison music scene, having released three records with her former band Clear Blue Betty, three solo records, and three collaborative projects in 2014 with other Madison musicians.
She first learned about the KWW/CF when she saw it on her Madison Gas & Electric energy bill and hatched the idea.
"This year we are going to be making the biggest Flannel Fest donation that we have ever made to Keep Wisconsin Warm/Cool Fund," she said. "We're still waiting for the ticket money to come in from the Appleton show. This will be the biggest by far. I'm just thrilled at how far we've come in terms of the money we've been able to raise and donate.
Sponsors like Spatz Bar in Appleton and Festival Foods really came through to help with the event, Kille added. "It's been fun to watch people come back to Flannel Fest every year that we don't even know Kjelland says. "As artists, we play throughout the year and have certain fans that we know very well, but this event has kind of taken on a nice little thing of its own where people come just for the event. It's fantastic. They just pack the house in all of their flannel clothing. It's fun to see." Beyond raising all of the money, which is really needed, Kjelland enjoys the fact that Flannel Fest is raising awareness.
"Just talking with all of the Keep Wisconsin Warm Fund people and getting some information and some statistics, you really see the need out there. And they help out so many musicians, as well," he says. "We've had some musicians at the event who even came up to the Keep Wisconsin Warm Fund people and tell them, 'Hey, we've had to use you guys once or twice and we really appreciate you.'
"Awareness is huge," he adds. "If you can spread that safety net out to people and let them know that this help is available, that's huge .... let people know that if they or their neighbors need that help, that they can get it. It's pretty incredible."
For more information about Flannel Fest, please visit http://flannelfest.com.