Hosking Inspired to Help, Volunteers for KWW/CF/Heat and Housing for Heroes
Madison Vet Center outreach specialist devotes time to calming veterans' stresses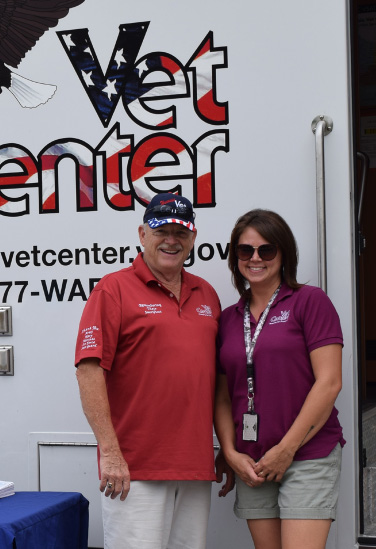 David J. Hosking, Outreach Specialist with the Wisconsin Vet Centers shown here with a co-worker in front of the Vet Center Mobile van at the KWW/CF Golf Classic
After serving for nearly 30 years, Dave Hosking has become very familiar with the difficulties that burden service members upon their return home from deployments and separation from the military.
Hosking, an Army and National Guard veteran who served in both Vietnam and Iraq, has been on the frontlines and realizes the vital needs of veterans. He tries to help solve them every day, too, as an outreach specialist for the Madison Vet Center, a U.S. Department of Veterans Affairs-affiliated facility that works to perform readjustment counseling for combat veterans and their families.
---
With multiple locations across Wisconsin, the Madison Vet Center is staffed by combat veterans, including licensed professional counselors with master's degrees.
Hosking said whenever he or co-workers run into veterans experiencing financial difficulties, or those lacking the ability to pay their energy bill during the winter, he doesn't hesitate to make a quick call and knows they will be taken care of.
"We do a lot of referrals (to Heat for Heroes) whenever we're unable to help the veterans we serve," Hosking said. "Heat for Heroes is a great resource … I would put the organization up against any other that helps veterans. You see the number of cents on the dollar that directly returns to veterans; I'd like to see any other organization that even comes close."
KWWCF/Heat & Housing for Heroes Founder Tim Bruer said Hosking's' personal dedication he's provided to the cause since it started has been incredible.
"Dave has been one of the earliest supporters of the Keep Wisconsin Warm and Cool Fund and Heat and Housing for Heroes initiative," Bruer said. "From the very beginning, he worked to not only give us a better understanding of the fragility of the mental health issues associated with veterans, but we also came to realize how much economic survival was in question for thousands of Wisconsin veterans."
Hosking said that a key point of KWWCF/Heat and Housing for Heroes is its ability to remove stresses from struggling veterans' lives, allowing them to focus on their mental health and other more important worries.
"When you see veterans hurting, and you have a resource that can help, you're able to relieve that stress," Hosking said. "It's difficult to describe what a difference it can make in their lives … when Tim and his people help them like that, it takes the stress off and it gives them more time to come and talk to us about some of the other things they're dealing with.
"A house is just a house unless it's a warm place to live, then it becomes a home. To have to worry about having a warm place for your family to live, that's a heck of a stress."
Bruer credited the work of Hosking with raising awareness to KWWCF/Heat and Housing for Heroes and helping identify those in desperate need of assistance.
"Together, we work to target our resources to some of those at the highest risk, especially those with mental health related issues," Bruer said. "We use our resources to develop much more affordable payment plans and, in the process, those veterans to become both financially and emotionally stable."
The inspiration Hosking has received from KWWCF/Heat and Housing for Heroes' mission encouraged him to volunteer his time outside his work with the Vet Center. He said that he volunteers his outreach expertise to KWWCF/Heat and Housing for Heroes and attends various events, adding that giving back to veterans in any way is a big motivator for him.
"When you look forward to coming to work in the morning because you can make a difference in someone's life, that's pretty awesome," he said. "Whenever you can see the direct results of what you do, whether it's Heat for Heroes or others who help veterans…you may not know or see the person you're helping but you know you're making a difference. That itself is pretty powerful."
It's that kind of work that keeps KWWCF/Heat and Housing for Heroes thriving, Bruer said.
"Dave has dedicated countless uncompensated hours toward those veterans who have a number of both physical and mental health challenges," he said. "Together, we have seen over a 90 percent success rate for veterans who are homeless or heading into homelessness. Together, we've been able to have a major impact on breaking that cycle."