Schoep's Ice Cream continues growing its 'sweet' bond with the Keep Wisconsin Warm/Cool Fund
Iconic company, leadership, team members "roll up sleeves" to help those in need
If there's one thing the Keep Wisconsin Warm/Cool Fund has relied on over the years, it's having the support of the community.
Dozens of companies throughout the state have lent their support to the organization and provided a safety net for more than 90,000 households that find themselves in crisis. Years ago, the KWW/CF found a "sweet" match in Schoep's Ice Cream.
The Madison-based company shows its support for the organization by hosting multiple fundraising events throughout the year. Things like the $5 all-you-can-eat Ice Cream Social at Olbrich Botanical Gardens in Madison and Wo Zha Wah Days Fall Festival in Wisconsin Dells always bring overwhelming support that goes a long way.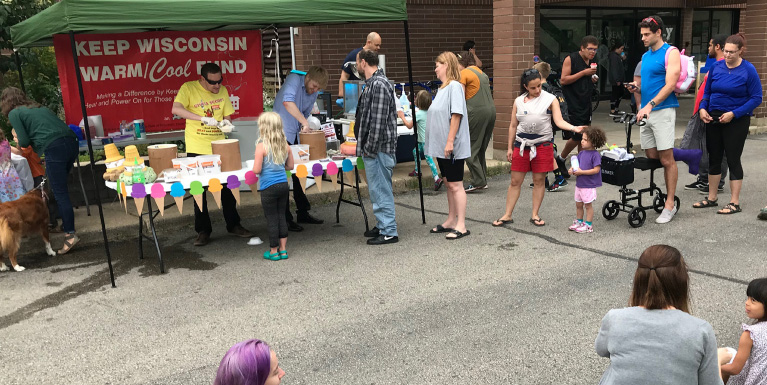 A line of hungry patrons forms at an ice cream social at the East YMCA in Madison, WI.
---
The initiative shown by hosting several events is something that KWW/CF Executive Director Tim Bruer said has a huge return on the organization.
"(Schoep's and the KWW/CF) share a lot of appreciation for the old Americana, where neighbors, family, and the community comes together to help people in need," Bruer said. "We have really enjoyed a tremendous amount of success with bringing in those special events and people together in that spirit.
"There's been a special chemistry and connection between the leadership and the rank-and-file at Schoep's and the KWW/CF. The level of respect we have for them continues to mount."
It's that unique bond with the community that led Schoep's to raise the bar in recent years. The iconic company, which has been in business for more than 90 years, found new, unique ways to support the KWW/CF and help those in need.
"Our relationship and support has grown as far as the number of events we do," Schoep's Vice President of Sales and Marketing Jason Ledford said.
At those fundraising events, you can usually see leadership and employees from Schoep's physically lending their support to help those in crisis.
"It's engrained in our company's culture that we help those who need it the most," Ledford said. "Team members always get a great sense of pride from that. We try to be a very giving organization, and our team members go to events and are paid for their time volunteering and supporting those events."
The commitment from the top down at Schoep's has been something that has amazed Bruer. While the KWW/CF is fortunate to have the support of dozens of companies and corporations throughout the state, there is something about Schoep's that motivates others to give back.
"When do you see the leadership (at a company) along with the rank-and-file scooping thousands of scoops of ice creams for a charitable cause?" Bruer said. "That's unimaginable in this day and age."
Ledford said that while the company is happy to back other charitable causes, the undeniable support it provides to the KWW/CF is because of the organization's ability to help hundreds of households every year when they need it most.
"The reason we're so engaged with them is the high rate of giving back," Ledford said of the KWW/CF, which gives 90 percent of every dollar directly to those in need. "That's a high rate for a nonprofit or a charitable organization that offers support for the people who need it."
In the years to come, Schoep's and the KWW/CF are looking forward to increasing their partnership, Bruer said.
"Their ability to roll up their sleeves, along with the growing relationships they have with other retail vendors promises to open up a number of new opportunities never imagined even a year or two ago," he said.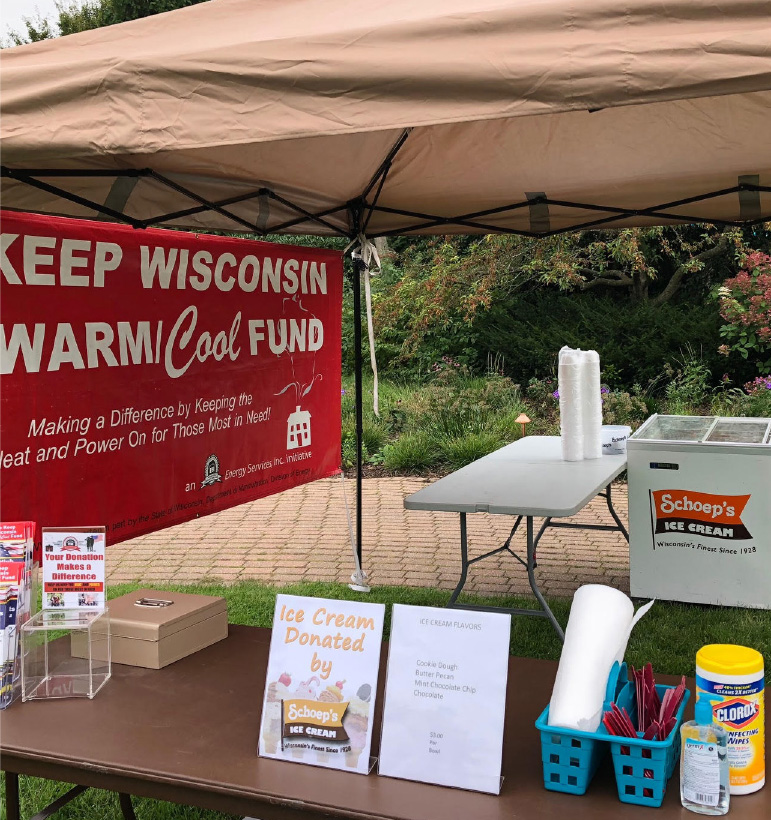 An ice cream social is about to start at Olbrich Gardens, serving many flavors of Schoep's delicious ice cream flavors, such as mint chip, cookie dough, and salted caramel.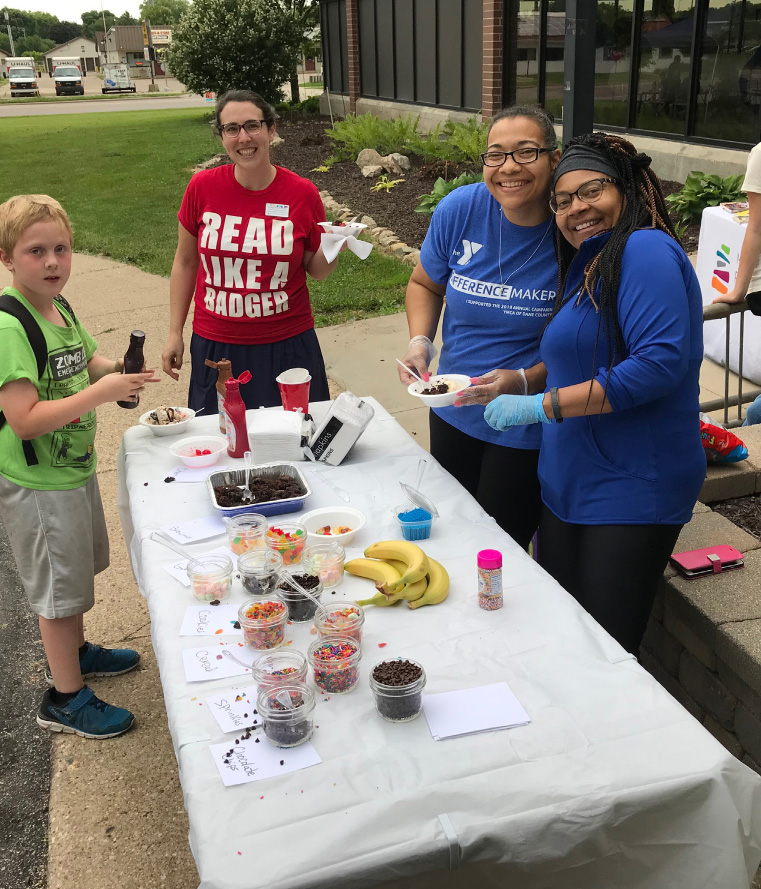 East YMCA staff and volunteers pose for a picture while enjoying the KWW/CF sundae bar with ice cream donated from Schoep's Ice Cream.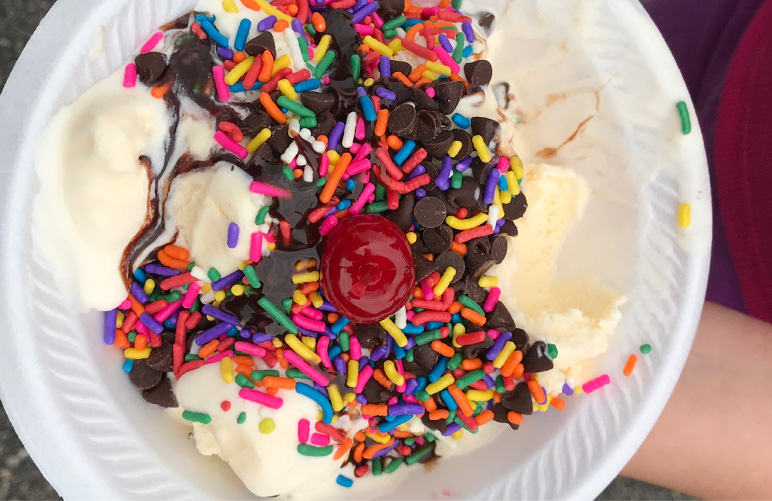 A sundae made from delicious, locally made, Schoep's ice cream at a KWW/CF ice cream social at the Madison East YMCA.