Morgan Murphy Media, Channel 3000, WISC-TV and Madison Magazine Broadens Their Involvement and Continues to Build On the Success of the Mission of KWW/CF
Popular calendar raises awareness and funds for families, Veterans and others in need in Wisconsin
"They were one of the first, beyond the traditional public service announcements, to really mobilize corporate support to raise public awareness and directly involve themselves in the ongoing fundraising activities of Keep Wisconsin Warm/Cool Fund, and more recently, Heat and Housing for Heroes," says Energy Services, Inc. Executive Director Tim Bruer.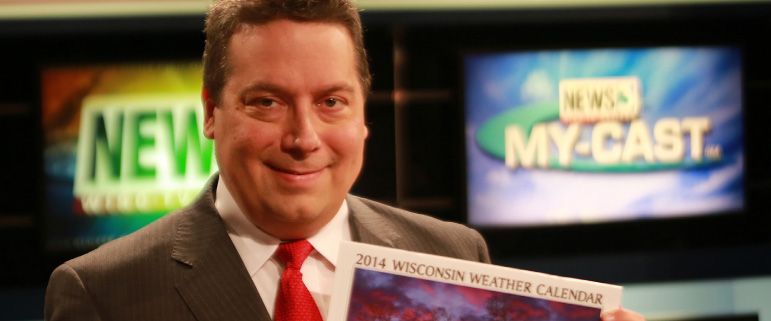 Weatherman Gary Cannalte shown here with a past weather calendar from 2014 when the partnership between KWW/CF and Channel 3000 started.
One of their most popular corporate projects has been their annual weather calendar – a photographic collection of beautiful Madison scenery that is very popular locally.
The Wisconsin Weather Calendar is filled with daily weather facts and beautiful photos from around Wisconsin. A portion of the proceeds go to the Keep Wisconsin Warm/Cool Fund helping keep the heat on for Wisconsin families in need. The Wisconsin Weather Calendar is produced by WISC-TV and Channel3000.com in partnership with Energy Services, Inc., and is a collaborative effort to bring heat to those in need in our community, particularly veterans.
"Since the beginning, Morgan Murphy Media – WISC-TV, Channel3000.com, and Madison Magazine -- has strongly supported the efforts of KWW/CF in its ongoing endeavor to keep the heat on for the state of Wisconsin's most vulnerable," says Tom Keeler, Vice President & General Manager of WISC-TV-TVW-Channel3000.com. "Tim Brewer and ESI share some of the same values that are very important to Morgan Murphy Media including serving our respective communities through on-going public service."
Over the years, Channel 3000 has also contributed tens of thousands of in-kind production time to help make Keep Wisconsin Warm/Cool Fund's ad campaign successful. Channel 3000 is also in the process of exploring co-sponsorship with Keep Wisconsin Warm/Cool Fund and Heat and Housing for Heroes a Heat Aid/Vet Aid concert that will raise further public awareness and bring in some of the top national talent in the country and western world.
"The likelihood of that event occurring within the next year has been enhanced by Tom's leadership and their growing corporate involvement to turn that concert into a reality," Bruer says. "Having this incredible support from Morgan Murphy Media has been critical to our success and having Tom's active participation will give us a tremendous boost going forward."
Keeler says he is looking forward to a long and lasting partnership.
"We will continue to stand shoulder-to-shoulder with Tim and his team by supporting this cause for years to come and are anxious to explore other ways to tackle this vitally important need in our state." he says.