Olbrich Botanical Gardens, KWW/CF Share Close Bond with Community
Madison landmark hosts events benefitting the organization
For 23 years, the Keep Wisconsin Warm/Cool Fund has relied heavily on support from those in the community. What started as an emergency fund covering nine counties has grown to an organization that has thousands of supporters and is available in every zip code in Wisconsin.
Despite the changes, KWW/CF Executive Director Tim Bruer has always known the organization can rely on the connection it has with the Madison area. So, when Schoep's Ice Cream and the KWW/CF formed a partnership, it was obvious to reach out to a historic place like Olbrich Botanical Gardens.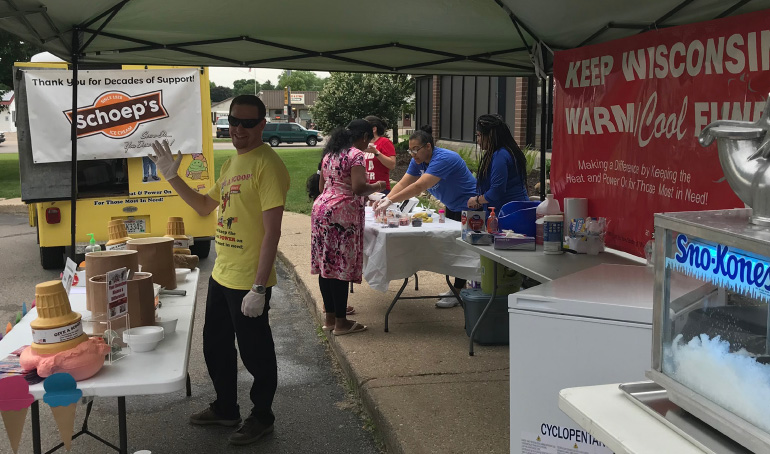 KWW/CF staff are ready to scoop delicious donated Schoep's ice cream for hungry patrons in Madison.
---
"Without question, Olbrich Gardens is a crown jewel for the Madison area and the state of Wisconsin," Bruer said. "Nothing epitomizes a piece of the old Americana like Olbrich Gardens and the number of events and activities that are held there."
Those activities include things like Oblrich's Summer Concert Series and Member Movie Nights, which have become a staple for the 16-acre facility. During those events, Schoep's proudly serves its delicious ice cream and proceeds from sales benefit the KWW/CF.
"We are so proud, along with Schoep's, to be one of the very few vendors there that compliment much of their special activities," Bruer said.
Olbrich Gardens is owned and operated by the City of Madison Parks Division in partnership with the Olbrich Botanical Society, a nonprofit organization. Mike Gibson, a City of Madison Program Specialist who helps run events at Olbrich, said the facility found perfect matches in the KWW/CF and Schoep's.
"The ice cream socials are a hit with our concert goers, especially on beautiful summer nights when we have over 400 people attending," Gibson said. "It has also been great having them at our Member Movie Night."
The collaborative relationship has given the KWW/CF another firm supporter and one which gives the organization another way to continue helping those who must choose between eating and heating their home every winter.
"They are available on moment's notice to help in any way," Bruer said. "If you want to take a page of the old Americana textbook on how to work collaboratively and cooperatively, the people at Olbrich Gardens and their supporters have been beyond fantastic. Our events together are seamless…people just leave their ego at the door, roll up their sleeves and make the event enjoyable and beneficial for all parties involved."
It's been a "mutually beneficial" partnership for the City of Madison, as concert goers have a way to get a treat on a hot summer day while paying it forward and helping those in need.
"The KWW/CF is able to raise funds while attendees have access to ice cream," he said. "Some of the money raised is also donated back to Olbrich. We hope to continue the partnership for many years to come."
Bruer said that the KWW/CF and Olbrich Gardens feel like such a perfect match because each counts on those in the community to come through. "Olbrich has also relied on a great deal of community support," Bruer said.
"Olbrich Gardens is a perfect example of a body that really brings so much good to the community and the people who enjoy their venue."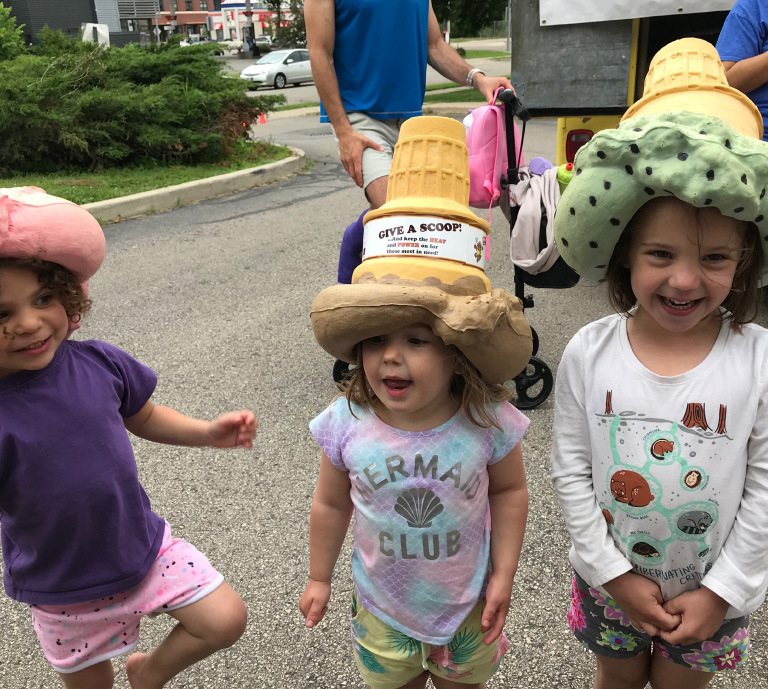 Young concert-goers try on some of the KWW/CF ice cream hats at the first Olbrich Gardens Summer Concert Series Ice Cream Social.