Schmidt's Auto Inc. Support Grows with Their Popular 1937 Classic Divco KWW/CF-Schoep's Ice Cream Truck and the Heat and Housing for Heroes "Vet Mobile"
Multi-generational family-owned business continues to help community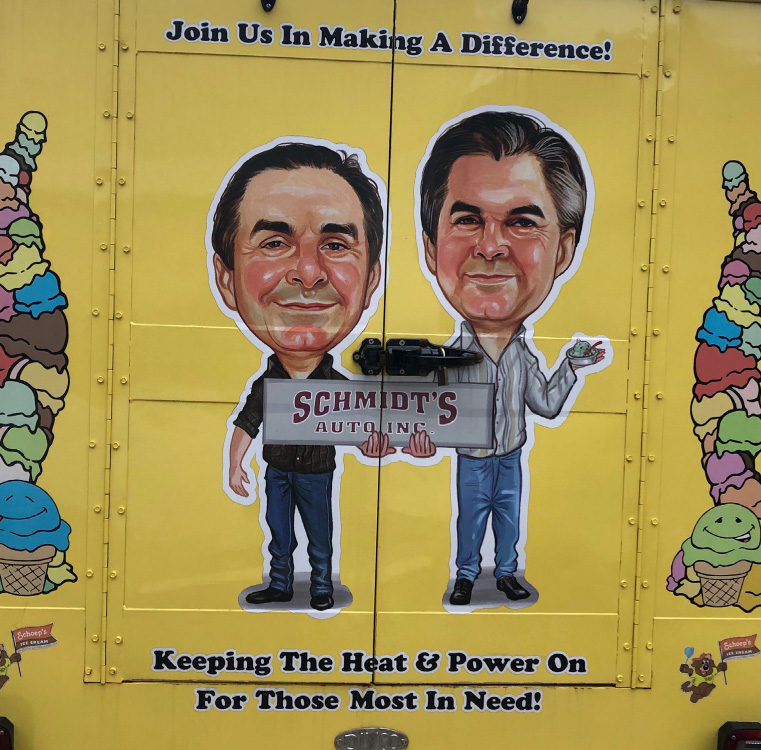 Mike and John Schmidt, from Schmidt Auto Inc., as caricatures featured on the back of the vintage ice cream truck that the brothers donated and refurbished for KWW/CF to use at ice cream socials around the state.
Longtime supporters of the community, as soon as Mike and John Schmidt heard what KWWCF/Heat and Housing for Heroes was doing, they wanted to extend a helping hand to families in need, especially struggling veterans.
The Schmidts, co-owners of Schmidt's Auto Inc., were immediately sold on the idea, offering to help the organization in any way. The family-owned business gifted and restored a converted ice cream truck for use in fundraising and outreach activities. Recognizing the importance of the impact the Divco ice cream truck has had, later unexpectedly, the family also contributed a converted van. The "vet mobile" has proven not only to be invaluable for special veteran events but with its patriotic graphics it too has become an incredible crowd pleaser.
---
"It's been amazing how many veterans, often in crowds, approach us with their appreciation for our mission after they see the 'vet mobile'." – Noel Ayala, Veterans Services Advocate for Heat and Housing for Heroes
"Who wouldn't want to help out?" Schmidt's Auto Inc. co-owner Mike Schmidt said. "Whether it's helping veterans or providing heat for someone who can't afford it themselves (Keep Wisconsin Warm/Cool Fund), it's nice to be able to help out."
The truck has an old-school body set atop of a late model Chevrolet van, which the Schmidt family renovated, and Vern's Body Shop in Middleton worked some of their body shop magic to bring to perfection. Their support didn't just end there, Schmidt's Auto Inc. continues to maintain both vehicles to this day.
KWWCF/Heat and Housing for Heroes Founder Tim Bruer compared the ice cream truck to the Oscar Meyer Weinermobile, adding that it's become a widely recognized and appreciated fixture at events and parades.
"Hundreds of veterans and Wisconsinites during parades or special activities approach us or give us a thumbs up and thank our donors for making such a difference for a veteran in crisis," Bruer also said. "(The Schmidts) don't like any fanfare or attention to themselves, but they've probably been the most silent angel donors we've had since our inception."
Schmidt's Auto Inc. has been a staple in Madison for more than 80 years. The family and Bruer have been lifelong friends. When Bruer made contact regarding KWWCF/Heat and Housing for Heroes in its infancy, Schmidt's Auto Inc. was eager to contribute and help it grow.
"We're a southside family-owned business, and whenever the neighborhood association calls us and asks for help, that's what we do," Mike Schmidt said. "We're a company that kind of stands in the background … we don't really like the publicity. We do it because we want to do it.
"If Tim wanted something, and he thought there was a way we could help, we would gladly help." The family's support doesn't end with helping our nation's heroes by supporting the organization. It also supports various causes in the community, like the Boys and Girls Club, the Make-a-Wish Foundation and the Southside Raiders youth football team.
"They are the epitome of old Americana where neighbors and small businesses come together to make a difference," Bruer said of the company.
The now famous KWW/CF ice cream truck decked out with ice cream hats and golf clubs at this years 17th Annual KWW/CF Charity Golf Classic held at Geneva National in Lake Geneva, WI.