Schoep's Ice Cream Playing Big Role in KWW/CF/Heat and Housing for Heroes' Success and Keeping a Piece of Old Americana Alive for Many Generations
Al Thomsen's support keeps nonprofit moving forward
For nearly 90 years, the thing that's helped make Madison-based Schoep's Ice Cream a leader in the industry has been its reliance on family and community.
Keeping much of the same formula over the years, Schoep's has tried to give back wherever there was an opportunity. So, when Tim Bruer, Keep Wisconsin Warm/Cool Fund and Heat and Housing for Heroes Founder, approached Schoep's CEO/President Al Thomsen with a chance to do just that, he didn't hesitate. Instead, he jumped into action.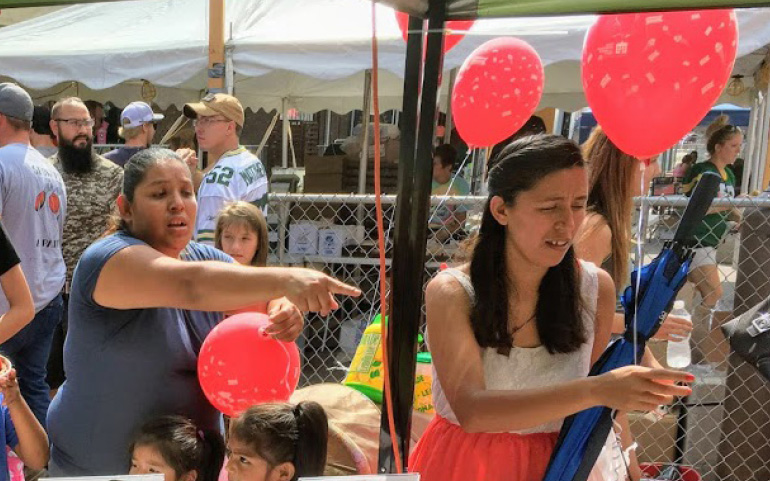 Patrons at Wo-Zha-Wa Days ice cream social in the Wisconsin Dells enjoy all-you-can-eat ice cream donated by Schoep's for $5 a serving benefiting KWW/CF.
Schoep's has long been a supporter of the Keep Wisconsin Warm/Cool Fund and Heat and Housing for Heroes. Whether it's been donating time, money or products, Thomsen and his company have fully embraced the mission.
"It's important to us," he said. "It's probably the No. 1 thing that we spend time on and contribute to as a company."
Bruer said that the support from Schoep's has been unparalleled, adding that the bond that's formed over the years has been predicated off the great reach of the company's charitable efforts.
"They really have a special place in their heart and an appreciation for what our mission and purpose is," he said. "It was a relationship that was destined to succeed because where our organization prides itself is in reaching even the most isolated and rural areas and people who don't come forth because of their pride. Schoep's has been involved in so many worthwhile charitable events in the area on a grassroots level."
Giving back specifically to the military community has been on Thomsen's mind since working with Schoep's former CEO, who was in the military and served as a mentor to him. Thomsen said that hearing his experiences, in addition to those of a few friends, made him want to do more.
"They are the ones who give us and protect those rights for us," Thomsen said. "I'm a firm believer in the National Anthem and what it stands for."
Every year, Schoep's holds ice cream social fundraisers at Olbrich Botanical Gardens in Madison benefitting KWWCF/Heat and Housing for Heroes. The cost is $5 for all-you-can-eat ice cream with 100 percent of the money going directly back to the organization. The company is also involved in Wo-Zha-Wa Days in Wisconsin Dells, doing much of the same, with leadership scooping thousands of ice cream scoops during outreach events.
"I feel a tremendous sense of reward," Thomsen said. "It's one of the biggest things of (Heat for Heroes), they put their money where their mouth is; the money is going to the folks who need it."
Bruer said that each time he encounters Thomsen and Schoep's, it's not difficult to notice their dedication to the cause.
"You can just feel their appreciation and support," Bruer said. "The sensitivity they have toward people struggling to survive Wisconsin's bitter cold and blistering hot summers is evident."
Thomsen credited the success of KWWCF/Heat and Housing for Heroes to Bruer's big heart and devotion to those who are in need.
"A lot of the growth is due to Tim caring," he said. "He has folks who understand that this is a really important thing, and they're huge believers in it."
Scheop's willingness to give back to the military community isn't close to finished, though. Thomsen said that the company is currently exploring the possibility of making an ice cream flavor dedicated to the military and veterans with proceeds going back to them.
"It's mint ice cream and chocolate ice cream swirled together, so it would give you the vision of camouflage," he said.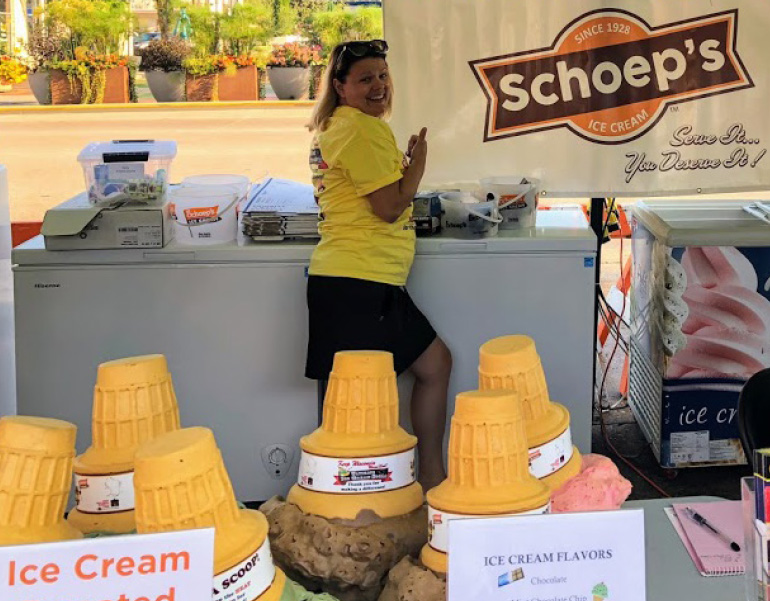 Volunteers set up the ice cream social promoting the generosity and goodwill of the Schoep's Ice Cream Company.